Woman of the Month: Ms. Jessica Swindell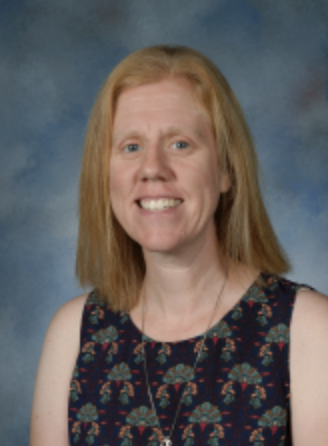 This month's excerpt on Women of the Month highlights Ms. Swindell, a member of the history faculty. Her witty and enthusiastic approach to teaching makes her classes fun and memorable. She graduated from Michigan State University, where she spent her final two years of college, as a history major. She chose history, particularly that of the twentieth century because of her eccentric high school teachers and interest in human behavioral patterns. She enjoys reading, traveling, and spending time with her children, which complement her career as an educator well.
Consistent with her love of travel and working with youth, she volunteered with Girl Scouts and City Year Detroit, a program that provides enrichment for the city's public schools, while living in Michigan. Additionally, she traveled to Germany this past spring. Her experiences provided some insight for her Holocaust elective class for the eleventh grade. She visited sites such as the Buchenwald prison camp, East Berlin communist monuments, and the Wannsee House, where the infamous Final Solution was planned. Though having taught and studied Nazi Germany throughout her career, she reported the trip was interesting but also a solemn reminder of the atrocities committed not so long ago. 
Ms. Swindell teaches World History for Grade 9 and Advanced Placement, as well as a new semester course on the Holocaust. To provide an enriching part of the grade 9 curriculum to close out the post-World War II era, Ms. Swindell helped organize Austin Prep's first Model United Nations conference, which took place last May. The conference covered topics related to or in proximity to the Cold War like the Gulf of Tonkin incident and the Cuban Missile Crisis. Freshmen served as delegates for a broad range of countries while Model UN team members and volunteer sophomores oversaw committees as chairs. Delegates spent about one month on in-class and homework preparation in lieu of notes, quizzes, and tests. In committee, they would debate, create, and vote on resolutions via the United Nations procedure. The initiative was an overall success and even brought new members to the competitive team, which Ms. Swindell is moderating this year alongside Mr. Whalen and Mr. White.
Ms. Swindell has contributed so much to the Austin Prep community in her 19 years of teaching here. Her classes are challenging yet a breath of fresh air, and she always finds a way to make the most boring and difficult topics fascinating and easy to grasp. Whether discussing the impacts of Mongol trade networks, the beliefs of African-American activist Marcus Garvey, or nationalism during World War I, all her students enjoy participating. Her expertise in historical developments and friendliness make her a great addition to the Model United Nations team. It is women like Ms. Swindell who drive Austin Prep students to be their best selves, as both students and people.