Books with Sommer: 2022 Recap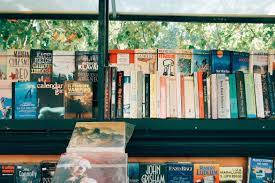 Books with Sommer: My 2022 Recap
In 2022, I decided to start a hobby with something I always wanted to do: read. It was always hard for me to find the time and even harder to find the right book. School books, aka classics, never really gave me a love of reading. I was much more interested in summer reading books and more contemporary writing styles. Who would have thought that once I started reading, I never really stopped. Reading for school was cool, but reading books that I wanted to read was amazing. Turns out, books are just as fun as watching Netflix, and trust me, I have read many Bridgerton-esk stories. My reviews started out pretty basic, but get more detailed the more I write. Now, my reviews on my current books are very long and very detailed. Here are the books I've read in 2022, and if you'd like to keep up with my reading journey, here is the link to my Goodreads account. 
The Immortal Life of Henrietta Lacks by Rebecca Skloot
Rating:⭐⭐⭐⭐
This book, although somewhat triggering depending on the person, was pretty enjoyable. I liked the blend of fiction-ish (true story but the way it was written) and science-based facts to be very moving, and the story itself is also just mind-blowing. A very good eye-opener for those looking at people of color's experiences in the medical field and a great conversation starter.
Beautiful little Fools by Jillian Cantor 
Rating: ⭐⭐⭐⭐⭐
Song of Achilles by Madeline Miller 
Rating: ⭐⭐⭐⭐⭐
A Touch of Darkness by Scarlett St. Claire 
Rating: ⭐⭐⭐
The more books I read I realize how fine this book was. The romance was meh. The characters were ok. Even though it did have a pretty good plot, I don't have any motivation to continue the series.
Beach Read by Emily Henry 
Rating:  ⭐⭐⭐⭐⭐
This book was absolutely amazing! I laughed (so funny omg), I cried, and I fell in love. It's such an emotionally relatable book that captures your heart so fast you didn't even know you lost it. Would 100% recommend it for a reading slump or just a good feel-good book on a rainy day.
Divergent by Veronica Roth 
Rating: ⭐⭐⭐⭐⭐
So mad I forgot to review this. It really is worth all of the hype. The plot kept me going and on the edge of my seat the whole time, and even though I'm not a huge dystopian fan, I really did enjoy this, and I may or may not have bought the entire collection after this.
Circe by Madeline Miller 
Rating: ⭐⭐⭐⭐
It took me on a journey I never expected to go on. It was different from other books I've liked before, but I still liked this one. I loved how Circe, no matter what, was still her own person, even as a lover and a mother, she was always more than that. I thought the ending was perfect in every way, and though I might not read it again because it didn't connect to my heart as others have, I would wholeheartedly recommend this book.
Insurgent by Veronica Roth
Rating: ⭐⭐⭐⭐⭐
Divergent was better in my opinion! But this one is totally worth the read too! I got stuck in it, and even though my schedule forced me away, all I wanted to do was jump back in
Allegiant by Veronica Roth
Rating: ⭐⭐⭐
I feel like this was my least favorite divergent book, with the fav as an insurgent. I missed the drive I felt with the others, and it took me a while to finish. The ending felt abrupt and didn't feel right to me. I wanted more for her and Tobias, and the ending just felt unnecessary. Also because I wasted a whole box of tissues sobbing. I would read this if you wanted closure to the series, but overall, I wouldn't super recommend it. 
If We Were Liars by M.L Rio
Rating: none
Not for me. Too angsty, too dark, too dramatic. These people need a reality check.
The Love Hypothesis by Ali Hazelwood
Rating:⭐⭐⭐⭐⭐
OMG, I LOVED IT.  Spicy and sweet all at once. So funny and just an amazing read. Might re-read it after this review honestly. I didn't know I needed a book like this so badly until right now. If you're even thinking about it, read the book.
The Seven Husbands of Evelyn Hugo by Taylor Jenkins Reid
Rating: ⭐⭐⭐⭐
I laughed. I cried. My heart raced. I was on the edge of my seat, and it was a book I don't think I'll ever be able to forget. 
A Good Girl's Guide to Murder by Holly Jackson
Rating: ⭐⭐⭐⭐⭐
I LOVED THIS BOOK!!!! It took me a sec at first to get into it, but MAN was it worth it. I was on the edge of my seat the whole time; I spent it laughing, crying, or biting my fingernails off waiting for the next moment when I could pick it back up. I may or may not have finished it while in class, but we can ignore that. if ur even CONSIDERING reading this book, YOU MUST READ IT!
Man's Search for Meaning by Viktor E. Frankel
Rating: ⭐⭐⭐⭐
Read this in my religion class. It truly made me think about things I never had before, and I would like to reread it again in a few years.
Hook, Line, and Sinker by Tessa Bailey 
Rating:  ⭐⭐⭐⭐
Just a cute rom-com overall. Made my heart flutter, but got a little slow at points, losing a bit of my attention. Still gonna go back and read the first one though because I need to know all the details. 
Daughter of the Pirate King by Tricia Levenseller
Rating: ⭐⭐⭐⭐
Very plot driven! I felt that I couldn't put it down, and the main character was amazing! Can't wait to add the sequel to my collection!
Great Gatsby by Scott Fitzgerald 
Rating:  ⭐⭐
It was fine. Honestly just fine. Like I get why it's a classic because of what the subject matter is but in no way should it take me getting 70% through the book to even start getting slightly interested in it. Like no plot until the end. The end was fine, kinda wanted more, not gonna lie. I'm just disappointed.
Murder on the Orient Express by Agatha Christie
Rating: ⭐⭐⭐⭐
I mean it's Agatha Christie of course it's gonna be good. Sometimes it was a bit slow for me, but I liked how it was set up. I just think you really need to want to read a mystery to enjoy it, not so much just any kind of genre.
1984 by George Orwell
Rating:⭐⭐⭐
Honestly, I thought I would really hate it. I truly did judge the book by its cover. Would I say I loved it? No. But I didn't hate it either. At some point, it really did catch me. The descriptions and details were captivating, but the story and writing sometimes left me with something more to be desired. When reading Goldstein's book, I found myself constantly having to take breaks from how bored I was.  I would be lucky to get through 10 pages a day. I am a very big plot person, and the lack of drive in this book often really goes to me. I think that the message of the book and the lessons it has were and are very eye-opening to read and understand. While I don't think I'll re-read or recommend it, if you have to read this book, I would suggest not shooting it down before you try it.
Invisible Man by Ralph Ellison
Rating:⭐⭐
Ummm. Honestly, I don't know whether it was good or bad. In general, it is a confusing read. I can understand what it's trying to comment on, such as bigotry and racism, but I don't know if I was able to pick up on everything he was putting down. There is no good or bad guy, which is great in having complex characters and bad in just not liking anyone. I'm not sure if he's invisible, but more so overlooked and familiarized, like he has a familiar face and doesn't stick out. There are also very triggering topics in this book, especially of a racial and sexual nature, so I would check the warnings if you are triggered by such topics before reading. Would I recommend it? No, not really. I think you can find the same messages in many other forms of media, as many POC have expressed their views on bigotry and how it can appear. If you have to read it, it does pick up in the 400-page range. For those who have to read it, my heart is with you. It has its good parts, but most of it just feels like alphabet soup with a lot of big words and descriptions that can be overwhelming.
Carry On: A Story of Resilience, Redemption, and an Unlikely Family by Lisa Fenn
Rating: ⭐⭐⭐⭐
First off, this book includes talk of suicide and self-harm, so if that triggers you, I wouldn't suggest it. the story was pretty good, even though the constant interjection of faith was a bit much. I did like the story though; the friendship between the characters was very heartwarming. The writing was casual and kinda funny, which made it easier to get through. Would I reread it? No. Would I recommend it? Not to everyone. I didn't think it would be any good, so the fact that I even slightly enjoyed it is a plus.
Antigone by Sophocles 
Rating: ⭐⭐⭐⭐
Short. Good. Classic. Good lessons. Yeah. Not much else to say because it was super short.
Lilah by Ashlyn Montgomery 
Rating: ⭐⭐⭐⭐⭐
Ok so I may or may not have read it several times (over 4) and I just love it. Keeps me going every time and I just bought the physical copy. 10/10. Not the most sophisticated writing or story, if you want something, not like a "book" book, but it just hits my teenage girl's soul every time.
Love on the Brain by Ali Hazelwood
Rating: ⭐⭐⭐⭐⭐
Took me more than a hot second to get even close to finishing this book. Life took me on a rollercoaster. but wowza. Ali Hazelwood can do no wrong. I hear a lot of stuff about her books being all the same, and while I can say there are similarities between this and "The Love Hypothesis", this is truly a work of art on its own. Funny, romantic, and just so fun to read. When I did get the rare chance to read it, I always had a good time. Always a big fan to see queer representation in books, even if it is in the side characters, and the heavy feminist tones really make this book amazing. If you like rom-com books and have read anything by Ali Hazelwood before, you're gonna love it.
Frankenstein by Mary Shelley
Rating: ⭐⭐⭐⭐
I can't help but think that all the death and suffering could have been avoided. It feels very true to human nature: the way we base things on appearance, our craving for love and compassion, and the natural curiosity of the unknown and desire to be recognized. I think Mary Wollstonecraft Shelley definitely wanted to comment on how science can be taken too far. Still, I think it explains how Vincent (what my English class named the monster) is the definition of essential human virtues. I am definitely pro-Vincent, and I feel that he was the abused who became the abuser, something that we can see often when looking into the lives of killers and criminals. I definitely think Frankenstein should be considered a warning, not about how far we take science, but of how we interact with each other and ourselves. It's a classic for a reason.
The Thursday Murder Club by Richard Osman
Rating: ⭐⭐⭐⭐
Ugh. Where do I start? It is just one of those "comfy" books: it was funny, heartwarming, and thrilling, and I did end up crying (it is not a sad book, I am just very emotional). Took me a bit to get into it, but once I did I couldn't put it down. The writing is funny and plot-driven, and the fact that it is written from the perspective of senior citizens does make you think. I think we often pass them by without a second thought, but now I'm looking at those I know with a new perspective and a new kind of awe; this person has lived a full life and has seen so much more than me, and I can't wait to ask them all about it. Call your grandparents. 
The Lion, The Witch, and The Wardrobe by C.S Lewis
Rating:  ⭐⭐⭐⭐⭐
Just the cutest classic. A good nostalgic read, even though I hate how Aslan stands up in the drawings. In my head, he is always on all fours but whatever. Getting my kids to read this bc it really is just amazing.
The House on the Cerulean Sea by T.J Klune
Rating: ⭐⭐⭐⭐⭐
A masterpiece. Funny, romantic, beautifully written, and just the most heartwarming story. This book made me so insanely happy, my whole soul is just smiling rn. Pure and amazing, a must-read and definitely a future classic.
A Streetcar Named Desire by Tennesse Williams 
Rating: ⭐⭐⭐
I'm in shock. Was it good? Yeah. Could I ever read it again? No. Broke my heart, and not in the way that I like, you know? Like I'm just depressed and the worst part is that I can't do anything about it. I didn't like any of the characters, but I have to admit that they were all intensely human. It is written so insanely well that it makes the fact that the story hurts me even worse. I'd want to read more of his work, but I also don't because I don't like his creative ideas. Sure, it's a classic, but it's not one that you need to read. While it does give an important take on the reality of life, other books and stories do it so much better, so I don't find this book a "must-read".
Good Girl, Bad Blood by Holly Jackson
Rating: ⭐⭐⭐⭐
I'd say more like 3.5. The first one was def a lot better. Don't think I will read the third one. Was kinda slow, and I didn't really feel that there was as much character development, which makes sense bc the story wasn't as introductory. It was also def meant to be read right after the first book, and I felt like I missed some stuff bc it's been a while. The end felt like a flurry of what should have been spread out a bit more throughout the book. Honestly, a fine book, by no means bad, but just lacking.
It Happened One Summer by Tessa Bailey 
Rating: ⭐⭐⭐⭐⭐
UGH. SCREAMING. SO GOOD. Some of it was a bit cringe (it's a romance book I expected it), but DAMN is the story so worth all of it. I don't know how it's written in the third person but I still feel like I'm experiencing it from everyone's perspective. At first, you hate the main character, then love her so much it hurts. I think it's just one of those romance books that, while being pretty grown up, just makes your heart flutter. I read the sequel before the original, but this one definitely tops it. A good read, and will totally be reading it again next year.