Congratulations, Mrs. Choate!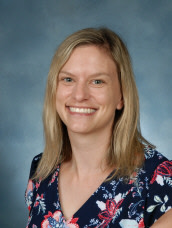 Congratulations to the recipient of this year's Lumen Award, Mrs. Choate! A member of Austin Prep's English faculty and devoted teacher, Mrs. Choate's recognition is well deserved. She teaches a number of classes varying from AP Language and Composition all the way to Shakespeare in Film. Yet no matter what class Mrs. Choate teaches, every single one of her students leaves with a smile on their faces. Mrs. Choate is an exemplary teacher at Austin Prep who consistently goes above and beyond in her work. 
Regardless of students' opinions on English class, many are fighting to be put into Mrs. Choate's. Some favorite moments from Mrs. Choate's class include students writing a eulogy on a dying trend, making creative posters to understand concepts, skill-oriented boot camps, and memes portraying complex scenes from books. Mrs. Choate thoughtfully finds a balance that makes hard work fun, and students often feel the time fly by. Many students agree that Mrs. Choate's class invokes their passion to learn. As the ongoing pandemic has made school feel unmotivated and lackluster, Mrs. Choate's class adds color to the students' academic lives. 
Even if you are not one of the lucky students to be placed into Mrs. Choate's class, she also is highly involved in the school community between being a class dean, frequent trip chaperone, Harry Potter club moderator, and she helps to organize writing peer tutors. Mrs. Choate is one of the most welcoming educators one will ever meet. Her involvement stems to almost all branches within Austin Prep, and you can always count on her to be there when you need it. Mrs. Choate is reliable, friendly, and her care shines through her work. That being said, on behalf of 'The Legend', congratulations, Mrs. Choate!