THE Austin Prep Door Decorating Contest
An Austin Prep tradition, door decorating holds a special place in every student's heart. A special time to form bonds with fellow students, advisories work together to create the most spectacular door possible. With all this comradery and community present, there has to be a bit of competitive spirit involved. After all, Bagel World is the prize worthy of champions.
Tuesday: The Setup
This is when it all goes down. Every single student has something to bring to the team: strangely good measuring skills, key ideas, height for hanging things, and overall moral support. Each job is necessary for a winning team.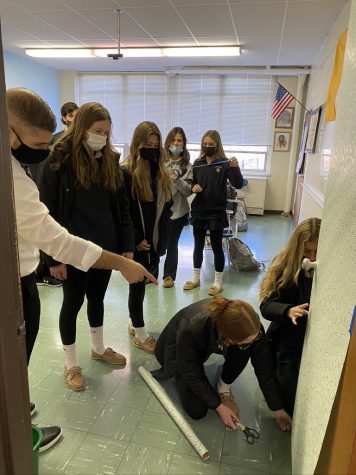 The artists of the advisories take the major workload, being the creative and functional brains of the operation. Those who take or have taken physics have underlying talents that surprise us every year. Who would have thought that kinetic and potential energy could lead to such festive successes?
Wednesday and Thursday: The Finish Line 
The home stretch. The showdown. This is when it all counts. The finishing touches, the small mistakes coming to light. The pressure is on, and it's almost too much. Almost. Every advisory wants to be the best, NEEDS to be the best; there is no such thing as losing. Every single advisory finished on time (thank goodness), and now the hardest part begins. The waiting for results.
Which Advisory should win the Door Decorating Contest?
Sorry, there was an error loading this poll.
Official Results: High School, Middle School
1st Place: Mrs. P, Mr. Mclaughlin
2nd Place: Dr. Dricoll/Ms. Colannino, Ms. Hibbard
3rd Place: Tie! Mrs. Putney/Ms. Huston, Ms. Dell'Anno
Happy Holidays from Austin Prep!