Is Standardized Testing on its Way Out?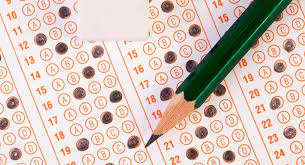 With students across the nation taking the PSAT's and many starting their prep for the SATs and ACTs, some people have begun to question why schools are still using standardized testing. Students have taken it upon themselves for a long time to protest against standardized testing and speak up about their concerns, but it seems that state governments are finally starting to listen to their plea's. It is common among students to want to have a larger say in the way their academic achievements are measured, and a new bill that has just been introduced may be the start of huge changes. 
Senator Jo Comerford and Representative James Hawkins of Massachusetts are both the main sponsors for the bill H.612 titled An Act Expanding Opportunities to Demonstrate Academic Achievement. The bill works to remove MCAS testing as the single determiner of academic achievement and demands there be varied tools used to measure students' academic progress. Standardized tests have shown through decades of research that they are incapable of accurately measuring academic development and are also biased towards white upper-class students. Senator Comerford argues that there must be a better way to gather information than using the same test on millions of unique brains. The Bill is one in many legislative fights to remove standardized testing as the only way of measuring student achievement. 
As Austin Prep is a private school, we don't have to worry about the MCAS testing. Yet bill H.612 is not the only thing showing progress for getting rid of standardized testing. During the 20-21 admissions cycle, over 50% of colleges within the US opted to make ACT and SAT scores optional. During an interview I had with Ms. Huston, a college counselor here at Austin Prep, she mentioned how Covid has opened the eyes of many universities and admissions to how standardized testing should be viewed during the college admissions process. Ms. Huston explained that there is a misconception on what admissions will think if a student doesn't submit test scores. Many people may think that admissions will question why there were no test scores on a student's transcript, when in actuality, the transcript is taken at face value.  Standardized testing does not have to be the only option for measuring student achievement; with the amount of stress they bring on and biased scores they produce, they probably shouldn't be either. If test scores are optional in a substantial number of colleges now, it leads one to wonder if the option is even necessary anymore. 
For a long time now standardized tests such as the SATs have been losing the weight they used to carry. Ms. Huston explained how SATs scores are less important than many people assume they are. College admissions are almost always focused more on the transcript of a student than on their testing scores. Instead of having testing scores be the end all be all for one's application, a better way of viewing them would be as a supplemental piece of a student's application. Ms. Huston stated that some universities give the option of submitting video essays in tandem with a student's transcript, even more evidence that college admissions, or any academic environment, are beginning to realize that they can't measure a person's academic potential based on a test that outlaws creativity and critical thought. This is one way that many that colleges are branching out from relying on the use of standardized testing, and once more brings into question how meaningful standardized testing is anymore.