New Teacher Spotlight: Mr. Sun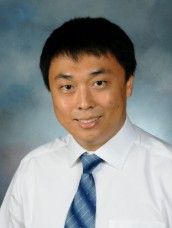 As Austin Prep has welcomed over 50 new staff members this year, it is important that as the student body, we open our arms to them graciously. For this week's Teacher Spotlight, we will focus on Mr. Sun, a new member of Austin Prep's math department. So far, Mr. Sun teaches several math classes including Pre-Calculus and Advanced Trigonometry. 
When students are in Mr. Sun's math class, his utter passion for teaching is clear to all of his students. Mr. Sun always welcomes students into his classroom outside of class hours for extra help and to ask questions. All of his dedication has proven extremely helpful to all of his students, especially with the rigorous curriculum being taught. Mr. Sun says that his favorite part about teaching is "Passing my passion and thinking in math to my students. Teaching knowledge is not my final goal, but helping my students develop strong mathematical skills and learning habits is. Those skills include critical thinking, problem-solving, collaboration, time management, perseverance, etc." As you can see, Mr. Sun not only focuses on teaching his students the curriculum at hand, but he also teaches his students many skills that will be continuously useful in day-to-day life. 
For many teachers, there is a common debate as to what they like better: the teaching itself or the subject? For Mr. Sun, the teaching aspect of his job is what truly excites him. He elaborates on this by saying "I am more interested in teaching itself, not some specific subjects. Education is life-long and life-based. To help my students understand the big picture of why we are learning and how our knowledge will be applied to solve real-life problems is the goal I am pursuing." What Mr. Sun loves about his job is that he sets the next generation up for success in life. To put it plainly, Austin Prep is filled with excitement to welcome a teacher as dedicated as Mr. Sun into the community. 
Meanwhile, outside the classroom, you can find Mr. Sun on the basketball court! He says that "I am a basketball fanatic. I play basketball every week and I watch basketball games a lot. I am looking forward to watching basketball games of Austin Prep's varsity team in the winter. Besides that, I also love cooking and singing." Some of you may know this "basketball fanatic" from one of the first pep rallies of the 2021-2022 school year. At this event, Mr. Sun went head-to-head in a free throw competition against a fellow staff member, Mrs. Brewer. In this brawl, Mr. Sun scored several points and came extremely close to beating his co-worker. He can't wait to support Austin Prep's basketball teams in their upcoming seasons!
While conducting this interview, there was one burning question I needed to ask this teacher. I needed to know, what is his favorite Sage Dining meal so far? However, Sage Dining has given him so many amazing choices, it is hard for him to choose just one! When prompted by my question, Mr. Sun said "I don't know, I love a lot. My favorite ones are maybe the tacos, grilled chicken, tuna salad, all the soups, and chicken fingers." As a student of Austin Prep, I've got to agree that he has great taste in the Dining Hall's food!
To speak on Austin Prep's behalf, we are so excited to have a teacher like Mr. Sun in our community. He is dedicated and willing to help his students succeed in any way possible. In the future, feel free to say hi to Mr. Sun at the basketball courts!