Survivor Micronesia Manifesto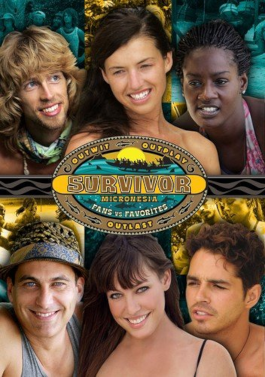 Survivor Micronesia Manifesto
  "The creme de la creme of all Survivor seasons is without a doubt Survivor's 20th season, Heroes vs. Villians." Well, you know what, twinfinite.net and every survivor geek on Reddit, you are sadly mistaken. As an avid Survivor superfan who has watched this show way too many times, I would like to admit that it boils my blood how everyone thinks that Heroes vs. Villains is on this pedestal as the best season of the best reality show on television. Have none of these people ever watched Micronesia? Not only is that the best season of Survivor, but the best season of television ever created, and I am sick of it being overlooked by seasons with flashier casts and idol plays. I will list many reasons why Survivor Micronesia is the best season, and all of these "FLASHY" seasons will never hold a candle to it.
THE CAST

– Perfection! The absolute perfection of a cast. The favorites returned with a vengeance, playing balls to the wall. And members of the fan tribe also showed promise by pulling out some tips and tricks from the playbooks of their favorite players. Let's start with the favorite's cast—first, props to the producers for casting actual fan-favorite players this season. (Looking at you, Caramoan). We have gravedigger James, the lovable giant who got voted out with two idols in his pocket. Yau-Man, one of the most likable people to ever be cast on this show, has a great personality and is a strategic tour-de-force. Ozzy, the dolphin boy, was the most dominant challenge in Survivor history at the time. Cirie, the woman who got off the couch to play Survivor, orchestrating blindside after blindside while still being a gracious legend. Ami, the ice queen of Vanuatu, would destroy any player who got in her way of the million dollars. Jonathan Penner, the hilarious flip-flopper who would crack jokes left and right while being despised by his cast. Eliza, the cat with nine lives who would tear people to shreds and, while hated by everyone, would survive almost every vote. And Jonny Fairplay, one of the greatest villains in Survivor history, nearly won him a million dollars with his infamous "My grandma died" lie. And while the last two castaways on this tribe were not actual favorites, they paid their dues this season being the final two. After this season, Amanda Kimmel became the first player to reach the last tribal council both times; she played and was a lovable hero with a steady strategic mind and a fun showmance with Ozzy. And Parvati Shallow, the winner of this season, became a bonafide Survivor legend after this season, leading the black widow brigade and charming the pants off anybody in her way while brutally blindsiding them and having a smile on her face. Overall, the favorites tribe had a great dynamic with one another. While some fan-favorite villains got voted out early (Fairplay, Penner, and Ami), and we lost Yau-Man, the most likable player in this cast, the rest of the favorites were possibly even better characters than before. Eliza was even funnier this season. Ozzy was the king of Micronesia who got too cocky and eventually blindsided with an idol in his pocket. James was still hilarious. Cirie was even more cutthroat and strategic this season, making some of the most impressive strategic plays this game has ever seen. And Amanda and Parvati proved their worth as fan favorites. Now the fans tribe. While there were a few duds here and there, everyone on this cast played a role this season. Mary and Mikey B. made for shocking early game blindsides as both showed lots of promise. Joel was the kingpin of the tribe who played way too aggressively early on, leading to his entertaining pre-merge downfall. Chet was so hilariously bad at the game that it led to excellent shock value for how many votes he survived. Kathy was zany and funny but showed her vulnerable side when she quit the game, making her more of a relatable character. Tracey was the rootable mom who made many great moves and persevered until her elimination. Jason was a fun character who got duped by the girls of this season, getting blindsided with an idol in his pocket right after Ozzy. Alexis played a considerable role in the black widow brigade and was the girl next door. Eric, the ice cream scooper, a challenge beast, had a chance to win the game until he made the dumbest move in Survivor history, leading to his elimination. And Natalie, the stone-cold woman who wrecked the dreams of Jason and Eric and served as Parvati's fun and just as cunning sidekick. Overall, the cast intertwines with each other beautifully, and everyone has something to do here. Let's be honest. While the Heroes vs. Villains form has the best-returning players you could find, not all of them delivered that season, as they all took a backseat to King Russell. Sorry but players like Colby, Rupert, Boston Rob, and Parvati should not side characters with that evil troll who is the largest screen hog in Survivor history. Cagayan also had a great cast, but can you remember anyone on the beauty tribe? China's form was small but gold, but there were not as many people to root for that season as almost everyone was a villain. While it may not be the most remarkable tribe ever, I believe that the favorites tribe is the second greatest tribe ever formed and all of the characters added to the narrative.
The Theme-

I was pleasantly surprised by the success of this theme. Going into this season, I thought the favorites would slaughter the fans, but that was not the case. This theme is intriguing and fun. Put ten superfans of Survivor against their favorite players and see what people with experience or people with more knowledge of the other players would do in this game. And while experience did end up winning, as the final three of this season were all favorites, the fans held their own as three made up the last six. The even playing field of knowledge levels out this twist, unlike Heroes vs. Villains, where the Villains were far more strategic than the heroes, leading to an almost ponging in the post-merge. This twist was solid and fun and proved successful as there would eventually be another Fans vs. Favorites-themed season. 
The Location-

Micronesia was a stunning location. From the crystal clear waters, the giant palm trees, and the mix of sunny and stormy. And while it never looks lovely when there are monsoons or tropical storms, it tested the survival element of the castaways. Some grow from it; others crack under the conditions. Weirdly, storms in survivor can lead to entertaining TV and great character moments and development. The characters survived through much exotic wildlife, including bats, snakes, and sharks. These animals were even eaten at one point. Now you know how desperate these people are for food and how insane this adventure they embark on is. And finally, the favorites tribe even spent their nights in a cave. A CAVE. Now that is cool. The beautiful waters also led to many water challenges, everyone's favorite. In one challenge, the castaways had to swim out to a platform, where they would climb up a ladder and use a hammer to jump off the platform and smash the tile to retrieve a key. Another challenge required the players to hold their breaths inside a crate as the water tide rose each minute and the person who could hold their breath the longest wins. And another extraordinary water challenge where the fans and favorites had a flat-out brawl as both tribes tried to retrieve five bags and bring them to their assigned territory. These challenges were cool, creative, and fun, elevating this season's stakes even more. Additionally, they utilized Micronesian culture perfectly this season, giving a great homage to the land they live on. Cool rewards they won this season was that the Airai tribe got a group of Micronesian fishermen who taught them how to build a better shelter, fish with their fingers, and utilize the spices they had to cook a great meal. Another remarkable reward was when the Malakal tribe went to a Micronesian village, where they got to experience a local dance, celebration, and spend the day with the locals whose clothes were simply leaves and a rope wrapped around their bodies. I mean Eric and the cava. Too funny. This beautiful paradise is much better than boring Samoa, where it is simply a beach, or Tocantins, where the whole area is just sand. Overall, this is one of the Survivor's most notable and prettiest locations they have ever been to, and it makes you want to take a dip in the ocean. 
The Storyline-

SO MANY BLINDSIDES!!!! This season was cohesive through and through, giving us many needed bumps in the road. The first four episodes are a bloodbath between the fans and favorites tribes as they go back and forth for immunity. We also get some great character moments from these episodes, which are introduced or reintroduced to the players of this season. Some plot lines include the division of the fans tribe, Joel catching a case of big-move-itis and blindsiding the most vital members of his tribe, Chet being comically bad at every challenge, Jonny Fairplay going from cocky jerk to caring dad, the showmance alliance, and Penner vs. Cirie. Episodes five through eight are when the tribes are switched, and we get the downfall of the Malakal tribe losing every challenge. Some plot lines include the fans' self-destruction on Malakal, Penner getting medically evacuated, Kathy quitting the game, and Parvati forming the black widow brigade. And then the post-merge. The best stretch of five episodes in Survivor History. So much went down here, and no other post-merge can even come close to the entertainment value these episodes brought us. Eliza telling Jason that his idol was not accurate and just a stick, yet still playing it at tribal council and getting eliminated was comedy gold. Then the black widow brigade coming together to lead blindside after blindside and running the game was awesome. They first blindside Ozzy, the favorite the win at the time, and get voted out with a hidden immunity idol in his pocket. Then, when Jason finds a real hidden immunity idol, he gets blindsided by the same episode by the black widows. After James gets medically evacuated and the lone man of the tribe, Eric, wins immunity, the women have to turn on each other. While Amanda was the easy vote, she pulled a hidden immunity idol out of nowhere, nullifying four votes and blindsiding Alexis in another grand exit. And the most significant moment of all is at the final five when the remaining women convince Eric to give up the hidden immunity necklace he won to Natalie and vote him out. The dumbest move in Survivor history and easily one of the most iconic moments on the show ever. We then get a Parvati win, with Cirie and Amanda playing all-time great losing games. This season's storyline was smooth, shocking, and the most entertaining season of Survivor he has ever seen. I do not even have to make a comparison here because this much action did not happen in Heroes vs. Villains or Cagayan. 
The Winner-

I'll keep this one brief. Parvati is one of the most outstanding winners and characters in Survivor history. She is cunning, flirtatious, and has a very infectious presence even though she is perceived as a villain, from orchestrating the black widow brigade, her showmance with James, to spearheading and being the swing vote on the Ozzy blindside, one of the greatest blindsides in Survivor history. These things alone make her a great player and one for the books. Seeing how greatly her game evolved from the Cook Islands was impressive. While other winners like Tony and Boston Rob may be more flashy and played better games, Parvati relied on the charm to win the game and is undoubtedly the greatest female winner ever.
        Overall, Micronesia is the greatest season of both Survivor and reality television. It never missed a beat or had a dull moment and is the superior season to Heroes vs. Villains. Yes, the HvV cast was flashier and better on paper, but Micronesia's number of blindsides, unpredictability, and storyline make it the greatest season ever.