Addressing the Climate Crisis: UN COP 27 Summit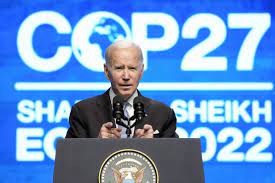 On November 6th, 2022 delegates from countries around the globe met in Egypt to participate in the 2022 United Nations Climate Change Conference, otherwise known as the Sharm el-Sheikh Climate Change Conference (COP 27). Countries discussed actions that needed to be taken in order to meet previously set climate goals under the Paris Agreement and the Convention. The summit ended with the acknowledgment that these climate disasters had been directly made worse by consistently rising greenhouse gas emissions from wealthy countries. 
Notably, a landmark deal was reached at the end of the summit. Diplomats from nearly 200 countries agreed to establish a fund to help poor and developing countries that have been catastrophically affected by climate disasters that are the result of climate change. The deal marked the completion of a decades-long effort by climate activists and diplomats from poor nations to receive compensation for the harm done to developing countries through the recklessness of wealthy ones. The deal promises to provide financial assistance for "loss and damage", money that would be used to rebuild these developing nations' physical and social infrastructures. Yet a fund has not been established, and more importantly, those who are supposedly financing this deal have not made any direct efforts to do so. Thus, though this is a landmark deal that developing countries have been fighting for decades, it does not necessarily guarantee any immediate assistance. 
Moreover, critics point out that this deal only considers the effects of climate change, and has been heavily criticized for not concentrating on the root causes of climate change. In the earlier 2015 Paris climate agreement, a goal was set that every government should try to stop global average temperatures from rising more than 1.5 degrees Celsius above pre-industrial levels. Beyond that limit, the risk of climate catastrophes will increase significantly. Though the goal sounds lofty to some, it is one of the only agreements that have been made by the UN that targets the direct causes of climate change. Furthermore, the 1.5 agreement is barely being met, with most countries' commitments to cutting down emissions being too weak to stay within the 1.5 C limit. During COP 27, some countries attempted to go back on the previously agreed 1.5 goals. Although they failed, a resolution that had previously been passed and stated that greenhouse gas emissions were to peak by 2025 was taken out, which alarmed many climate scientists and activists. Many point out that the 1.5 goal is a "limit of safe living", and to try to rescind efforts to meet this goal puts the entirety of the world's population at risk. 
As we have seen time and time again, too many countries at the COP 27 summit blocked measures to address climate change, showing an unwillingness to save our planet from further climate disasters. The deal reached during the summit, though effective and worthy of celebration, falls far short of what is needed to deal with the climate crisis. Once more the results of the summit show a growing gap between climate science and national climate policies. Many officials point out that governments need to be told what they do not want to hear, which is that they are not doing enough. Globally and individually, countries are not doing enough through policy or action to work toward a sustainable future. As we all know we are beyond the point of no return, there will be no reversal of the damage already done. However, we can control the future of climate change, and decide whether we want it to look like a climate disaster or a livable world.