Spring Sports Highlight: AP's Girls Golf Team
As Austin Prep's spring athletic season comes to a close, it seemed right to take the time and highlight a rookie sports team, Girls Golf Club! At the beginning of the season, team captains Lizzie Hart '22 and Taylor Grohe '23 teamed up with Ms. Flaherty to create this club. After weeks of recruiting members and approval from AP, the girls were finally able to hit the course. 
The first few weeks of practice started at Richardson's driving range. The girls and Ms. Flaherty met every Monday to practice their swings. After an hour of training, it was time for team bonding. The girls can all agree that the highlight of the first few weeks on the team was spent bonding with their peers after practice to enjoy some Richardson's ice cream. 
After the team's skill collectively grew, it was time for them to upgrade to the big leagues: Hillview Golf Course. Here, the girls continued their practice in the driving range, while also heading over to the green to work on their putting. The competition at the course was intimidating, but the girls held their own! 
Although the team never got to truly compete, they are excited to show off this year's practice next year. If the team is able, they will start attending golf tournaments as early as next spring. Until then, the girls are grateful for Ms. Flaherty for teaching them how to take on the course and grateful for their teammates and all of the laughs. Special shoutout to the honorary team manager for providing the girls with shade, Marcos de la Cruz '23, even though he never figured out how to do his real task: buy more balls.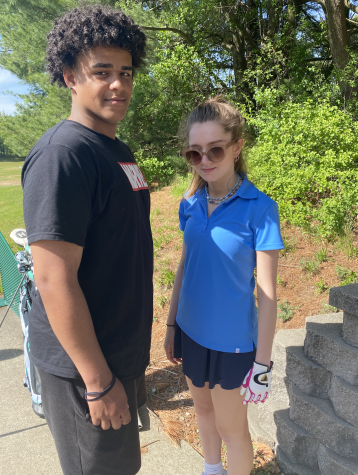 Team manager pictured offering shade to team member.